I own both of these radios and for the most part they work fine. The one issue I was seeing with them is a propensity to not lock on a signal unless it was very strong.  After searching the Internet I came across a fix for this issue which I will describe below.
As you may already know the squelch menu (MENU 0) has 10 sub menu settings labeled 0 to 9. Each of the 10 settings can now be programmed with a value of 0 to 64.
Menu setting 0 keeps the squelch open at all times regardless of what level value is programmed into it. Small increments between values, such as the way the factory default values are set, are not noticeable.
64 is very tight and takes a very strong dead full quieting signal to open the squelch. 0 is loose but still not loose enough for extremely weak signals. I'ts definitely not like having a traditional squelch pot set right at the threshold.
Note: This eliminates popping static from opening the squelch at random. Really annoying when mobile.
Most standard factory levels range from a low of 14-22 to a high of 40-48, both of which are low, and offer very little variation of squelch levels.
Using the settings below spreads the range from 2-105.  CHIRP allows you to select values up to 123, however anything much over 105 will not open the squelch.
Using CHIRP software, I was able to set the squelch settings to the settings below on the Settings tab under Service Settings (as the picture shows.  Even though this shows for a UV-82HP, it works on the UV-5R and UV-5×3 radios):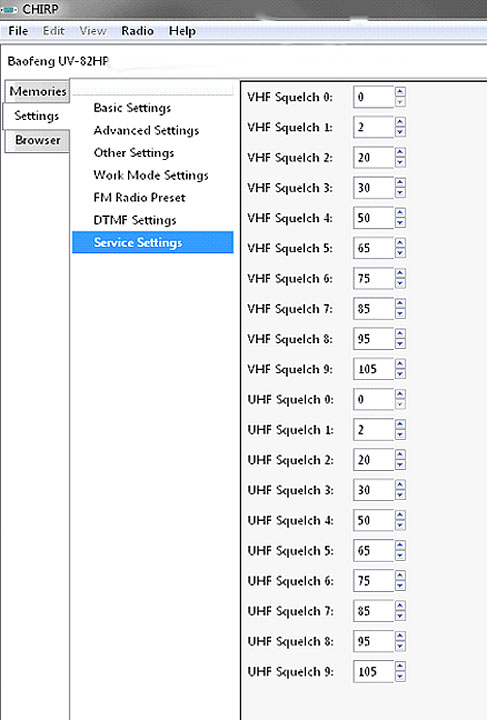 Try it. YMMV. If it doesn't work, restore from your backup image. You did make a backup image, didn't you?
You may want to try this one if the spread is too far (Spread 6):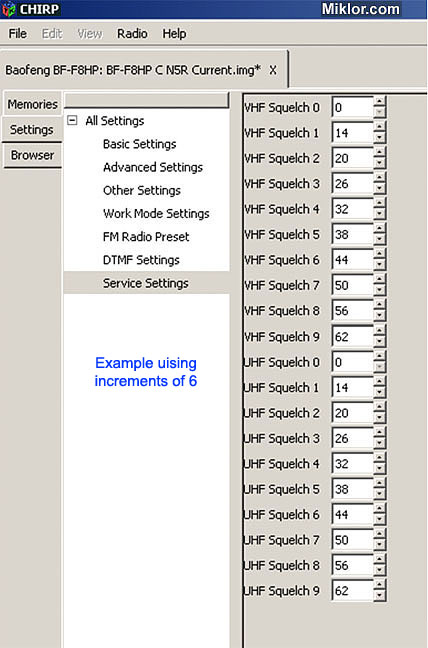 Or this one (Spread 8):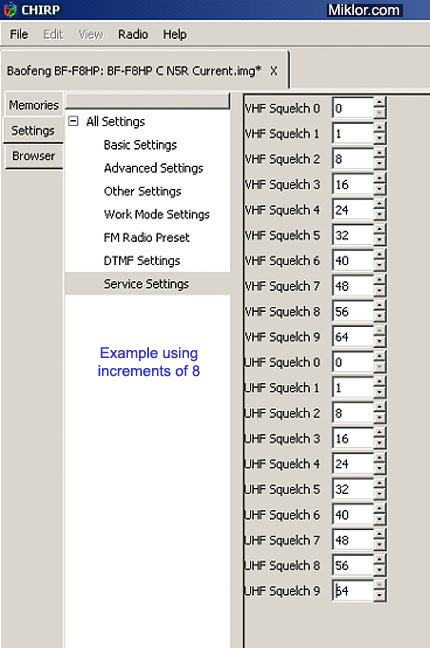 ALWAYS make a backup of your radio before making these type of change.
73,
KB5WCK